Vodafone Fiji Marks 28th Birthday with Vodafone Flying Fijians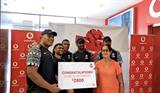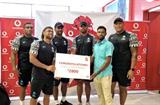 Vodafone's customers were in for a grand 28th birthday celebration at the Lautoka City outlet this Saturday.
"We are celebrating 28 successful years in Fiji. Vodafone has always delighted customers with grand campaigns that offer massive prizes throughout the month of July. Our customers can win cash prizes daily, said Vodafone's Sponsorship Manager Adriu Vakarau.
"As part of our celebration, we will give away $280,000 in cash and prizes. Every day, one customer wins $2,800 in cash, and one lucky customer will walk away with the grand prize of $28,000, said Vakarau.
Two winners from the West were hand-over their cash prizes. Shakil Prasad from Rakiraki and Roshni Kumari from Lautoka won $2,800 each.


Subscribing only to $2 plans, Shakil had subscribed to Vodafone Chit-Chat and Roshni subscribed to Daily Pass Data Plan.
Shakil who is student in Mechanical Engineering was ecstatic to have won the cash. Thanking Vodafone for the win, Shakil said that "it is the first time for me to win something and that too with $2".
Roshni who is from Drasa in Lautoka, said that she also did not expect to win cash as she is did not realise that a simple subscription could win her $2,800.
The Vodafone Flying Fijians boys also made an appearance at the event gathering a massive crowd. Mr. Vakarau also wished the team the very best for their match in the afternoon. Go Fiji Go!
For further information contact:

Media Relations
Head of E-Commerce
fozia.muktar@vodafone.com.fj
shailendra.prasad@vodafone.com.fj