Vodafone Delivers Assistance to TC Yasa Victims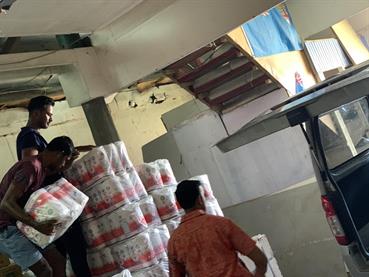 Saturday 19 December, 2020
As people pick up the pieces of one of the worst cyclones to make landfall in Fiji, it's easy to be left feeling powerless and out of connection from the rest of the world. Yasa, one of the strongest tropical cyclones ever recorded has left a trail of devastation and destruction worse than TC Winston in 2014. Vanualevu and neighbouring islands have been most severely affected.
As the task of rebuilding begins, Vodafone knows the importance of communication and the immediate need for relief and assistance to the people. Our network restoration teams have literally been "all hands on deck" for the last few days as they navigate through damaged powerlines, fallen trees, flooded rivers and washed roads to make it to the top of the mountains to repair damaged network infrastructure and to restore network connectivity. In just two days post the cyclone, our teams have been able to restore 80% of network connectivity to the affected areas.
Power outage in the affected areas remains a challenge in bringing network connectivity up. However, Vodafone has made arrangements to ship additional generators across to Vanualevu as soon as shipping services resume, whilst we await the full restoration of EFL power.
We also realize that at this time, many of the affected families who have lost their homes and belonging are managing with bare minimum and need some urgent relief assistance. In an act of solidarity and standing up for the people of the north, Vodafone has activated its "Vodafone Red Alert TC Yasa Relief" initiative, under which 500 cartons of essential food items, basic tools and tarpaulins worth around $100,000 will be distributed to families in the most affected areas in Vanualevu, so that people can begin to put back a roof over their heads. A team of Vodafone headquarters staff and volunteers are currently gathering supplies from various suppliers to a warehouse in Suva to be ready packed for shipping and delivery to victims starting tomorrow.
We are in constant contact with NDMO, DISMAC and Commissioner Northern' s Office to help pour through the relief efforts and provide latest update on network restoration works.
Vodafone acting CEO Ronald Prasad said, "Vodafone Fiji remains committed to providing the much-needed connectivity for every Fijian to stay in touch their loved ones through these very difficult times. To further assist our customers, Vodafone Fiji will be providing free 20GB data, 100 minutes of on-net voice calls and 100 SMS to all customers in the affected regions. To access this free V-Care Plan, customers in the affected regions can dial *212# to subscribe to the plan.
#TogetherForever.