Vodafone Fiji Partners with Tourism Fiji as Technology sponsor for the 2023 Fijian Tourism Expo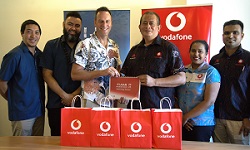 Wednesday,26th April, 2023
Vodafone Fiji Partners with Tourism Fiji as Technology Sponsor

Vodafone Fiji today announced an exciting partnership with Tourism Fiji as Technology Partner for the upcoming Fijian Tourism Expo.

"Fiji is an outstanding holiday destination with stunning natural beauty and a rich cultural heritage that attracts a significant number of tourists each year. Having a strong industry sector and a number of hardworking stakeholders, Fiji has earned an apt reputation as a place where happiness comes naturally.
Vodafone Fiji, as an industry leader in digital services, strives to provide innovative solutions to its customers, and this partnership will allow us to do just that. "As the technology sponsor for Tourism Fiji, we will be able to provide Expo attendees with seamless connectivity that will enable them to discover more about Fiji and get the most out of the renowned Tourism Expo," stated Vodafone's Chief Marketing Officer, Rajnesh Prasad.

"We are excited to announce our partnership with Vodafone as the Technology Partner for FTE 2023. As we look towards the future of tourism in Fiji, it is essential to incorporate the latest technologies to enhance the visitor experience while promoting sustainable tourism practices. With Vodafone's expertise, we are confident we can achieve these goals and deliver a world-class event for all participants. We have a long-standing commitment to Vodafone and are very proud to continue to work with them. We look forward to working closely with Vodafone to showcase Fiji's uniwue culture, hospitality,and natural beauty to the World." Brent Hill, CEO of Tourism Fiji.

Prasad added that the partnership between Vodafone and Tourism Fiji Vuvale would also enable the two entities to collaborate on future initiatives to on-the-go connect tourists to happiness when they visit our beautiful island nation.

With our pioneering M-PAiSA platform, we have emerged as a key player in the FinTech industry and are focused on capitalizing on digitalization opportunities and look forward to delivering game-changing products and services in the year ahead. At Vodafone Fiji, we are committed to supporting Tourism Fiji's mission of promoting Fiji as a top-notch destination for all visitor portfolios. Increasingly, tourist destinations are moving towards cashless operations, and we are proud to play a part in making Fiji a more connected destination, added Prasad.

Vodafone's Head of Business Enterprise Development Antonio Kitione, who attended the formalities this morning at the Tourism Head Office, stated, "We are excited to announce our partnership with Tourism Fiji." Together, we look forward to enhancing the holiday experience for visitors from around the world."

The 2023 Fijian Tourism Expo is scheduled to start May 6th to 8th at the Sheraton Fiji Resort & Spa.

For more details on the Expo visit https://corporate.fiji.travel/fijian-tourism-expo
For further information contact:

Media Relations
Head of E-Commerce
fozia.muktar@vodafone.com.fj
shailendra.prasad@vodafone.com.fj