Vodafone's Vitikart Offers Free Delivery for Consumers and Free Subscription for Merchants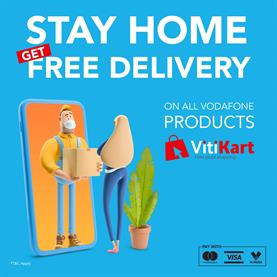 The current restricted movements within allocated zones only to prevent the spread of COVID 19 is limiting people's ability to shop around for goods and services. To overcome this limitation, Vodafone Fiji through its online Vitikart platform is offering the consumers the opportunity to purchase goods from anywhere in Fiji with an option to have it delivered directly to their homes. Merchants such as Courts, Vinod Patel, Home and Living, Subrails, Prouds, Jacks, Valuefone, Vodafone and many others are offering their products at great prices through the Vitikart platform.
"At a time, when community transmission of COVID 19 is becoming a major risk, keeping away from large gatherings and shopping malls etc to avoid contact with infected persons is a precaution that all Fijians must take", said Mr Pradeep Lal, the Regional CEO of Vodafone Fiji. Hence, providing an online platform that offers Fijians the convenience of shopping safely from home is highly recommended. The Vodafone Vitikart platform integrated with the M-PAiSA mobile wallet gives consumers the freedom to browse, purchase and pay safely from their homes.
The impact of COVID globally has seen a major shift in consumer buying behaviour as more and more businesses are offering their products online. The trend is fast catching up in Fiji also as local businesses find new and innovative ways to engage with their customers. Major retailers, restaurants and even small enterprises have adapted to this online ordering and delivery system to keep afloat during this pandemic.
During this pandemic and for the next one month starting the 1st of May, Vodafone as a merchant on its Vitikart platform is offering its customers specially discounted prices on mobile handsets that is not available in any of its retail outlets with Free of charge home delivery. This is to ensure its customers Fiji wide are not in any way disadvantaged due to the current restricted movements in areas. Customers also have the option to pay directly from their mobile using M-PAiSA when they purchase through Vitikart without any additional fees and charges.
Vodafone Fiji is also offering Free 3 month's subscription to local businesses who may wish to register as an online merchant on its Vitikart platform to offer their products for sale online. Businesses that register in the next 30 days will have the monthly subscription fee waived for the next three (3) months.
Whilst we are all taking strict precautionary measures the need for shopping is still an unavoidable concern. Vitikart provides a safe and convenient option to both the consumers and businesses in this very difficult operating environment. Customers can download the Vitikart App through Google Playstore or the Appstore to take advantage of the great offers. We urge all consumers to Stay Home, Shop Online & all merchants to Stay Home Trade Online.