Vodafone Fiji Invests $55 Million into Network Infrastructure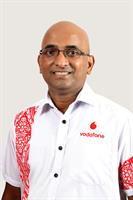 Vodafone Fiji Regional Chief Executive Officer, Pradeep Lal today announced a further investment of $55 million into the company's network infrastructure. "Such investment is essential to deliver on our promise of continuous improvement and of course, strategic to aim of future-proofing Fiji's number 1 network. It is also an investment to support our growing digital economy and bridging the digital divide so that no one is left behind", said Lal.
Over the last two decades, Vodafone Fiji has built a robust network infrastructure to deliver the latest, faster, more reliable Internet and Wi-Fi services to Fijians. "We are a market leader in mobile communications connecting over 800,000 Fijians, forging ahead with our transformational strategy, Vodafone Fiji is evolving from a traditional telco to a leading provider of new generation connectivity and digital services provider of scale in Fiji", said Lal.
"We are committed to strengthening our existing network infrastructure and will continue to invest in more capacity on our existing platforms to focus on untapped regions in Fiji, especially rural and maritime areas with an injection of 20 new sites.
Vodafone, on this front, is well positioned to meet the increasing demand for data products and services. In a world where digital activities are growing at lightning speed, connectivity is crucial to our society, our economy, and ultimately our everyday lives. The digital world is exploding amidst the global pandemic insurgence and the exponential growth in data usage is reflected on our network as well. Lal said Vodafone Fiji has recorded five-fold increase in data traffic over the last few years.
Lal stated that on an average, data traffic is increasing by up to 50% annually and this demonstrates the size and capacity of our network to handle the increased demand. We have over 500,000 data subscribers connected on our network with monthly usage exceeding 10,000TB and growing. This clearly indicates a growing demand for data and the Internet remains an engine for growth and expansion. It is therefore critical to invest in the expansion of network infrastructure and technology.
"With today's digitally driven ecosystem, Vodafone understands the importance of connectivity as an enabler of change. We, as a Fijian entity, continue to invest in and employ different technologies in order to connect more Fijians every day. With our satellite-based solutions, we continue to support initiatives to connect the unconnected with a simple, cost-effective solution for remote and maritime regions. A total of 36 satellite projects have been completed as part of this initiative with another 10 in progress", said Lal.
Vodafone Fiji continues to expand its ICT portfolio said Lal, "we strive to remain a one-stop shop enterprise solutions provider. Our connectivity value-chain is in partnership with renowned multi-brands solutions, i.e. Collaboration, Managed Services, Software-Defined Networks, Disaster Recovery, Cloud Computing, Infrastructure, Platform, Software as a Service, Unified Communications, and Cybersecurity.
"We are valued by our achievements in delivering the best in mobile communications. Vodafone is the first and only telecommunications company in Fiji to achieve ISO/IEC 27001:2013 for Information Security Management, demonstrating our commitment to helping our clients embrace cloud and digital transformation initiatives. Through partnerships with Microsoft, Amazon and Oracle Cloud Platform, Vodafone is consolidating and modernizing the technology infrastructure that supports its data warehouse and back-up systems into a cloud platform capable of supporting and scaling next-generation digital services. With our future-oriented strategy, Vodafone invests and explores the domains of IoT and convergence with end-to-end solutions. Keeping up with industry trends is paramount to our future and we remain on the lookout for innovative and dynamic enterprise solutions".
"Innovation is the key to a connected and better future, and we believe all customers should have equal access to the best service possible. We have continued to maintain the efficient and seamless delivery of services through our network. Continued investment is fundamental to ensuring the unrestricted access and participation of citizens in our digital society. Fiji is ranked as one of the leading nations in the Pacific Islands in the GSMA Mobile Economy 2020 report, and we are extremely proud to contribute continuously towards enabling high mobile and internet penetration. We will remain attuned to the dynamic nature of the industry to stay ahead of the curve".
Lal also said that "rising global smartphone penetration, ubiquitous superfast internet access, increasingly converged solutions and remarkable new technologies are rapidly transforming the way that people live and work. This transformation is simultaneously creating new business verticals to explore. Future investments include financial services for the unbanked, connecting the unconnected, eTransport, eCommerce, working and education needs, health care services, seamless connectivity to support high-definition entertainment consumption and online gaming, and the rising internet of things (IoT). The time for delivering the infrastructure to support this is now".
Vodafone Fiji's incredible journey over the years and its continued contribution to the modernisation and economic development of Fiji and its transformation into a highly connected society were echoed by Lal. He added that the substantial boost is essential for Vodafone to undertake a series of upgrade actions. These upgrades will enhance customer satisfaction, improve capacity and network utilization, as well as strengthen its network presence. Our continued investments are strategically aligned, having a shared vision with digitalFIJI aiming at developing a $1 billion digital economy in Fiji by 2030. We aim to enable a strong digital Fijian economy by delivering state-of-the-art digital network architecture, delivering next generation core network functions more securely and supporting a full-fledged cloud-based infrastructure. Having trailblazed the eCommerce sector with our M-PAiSA platform, we are proud to emerge as a key player in the FinTech industry and work towards capitalising on the digitalisation opportunities and look forward to delivering game-changing products and services in the years ahead", said Lal.
For further information contact:

Media Relations
Head of E-Commerce
fozia.muktar@vodafone.com.fj
shailendra.prasad@vodafone.com.fj